Moritz Grossmann presents the limited edition ATOM MOORE 37 silver-plated by friction in New York
Lines that overlap, cross, create volume and seemingly give rise to special perspectives: the dial of the new ATOM MOORE 37 silver-plated by friction watch by Moritz Grossmann plays with contrasts, graphic contours and the effects of different surfaces. It has been designed by artist and photographer Atom Moore and executed in accordance with the best tradition of craftsmanship as cultivated in the Glashütte workshops.
The limited edition will be premièred in New York: following its launch on 19 October at midday New York time, Moritz Grossmann will then present it over the following few days at the WatchTime New York trade fair.
https://www.watchtimeevents.com/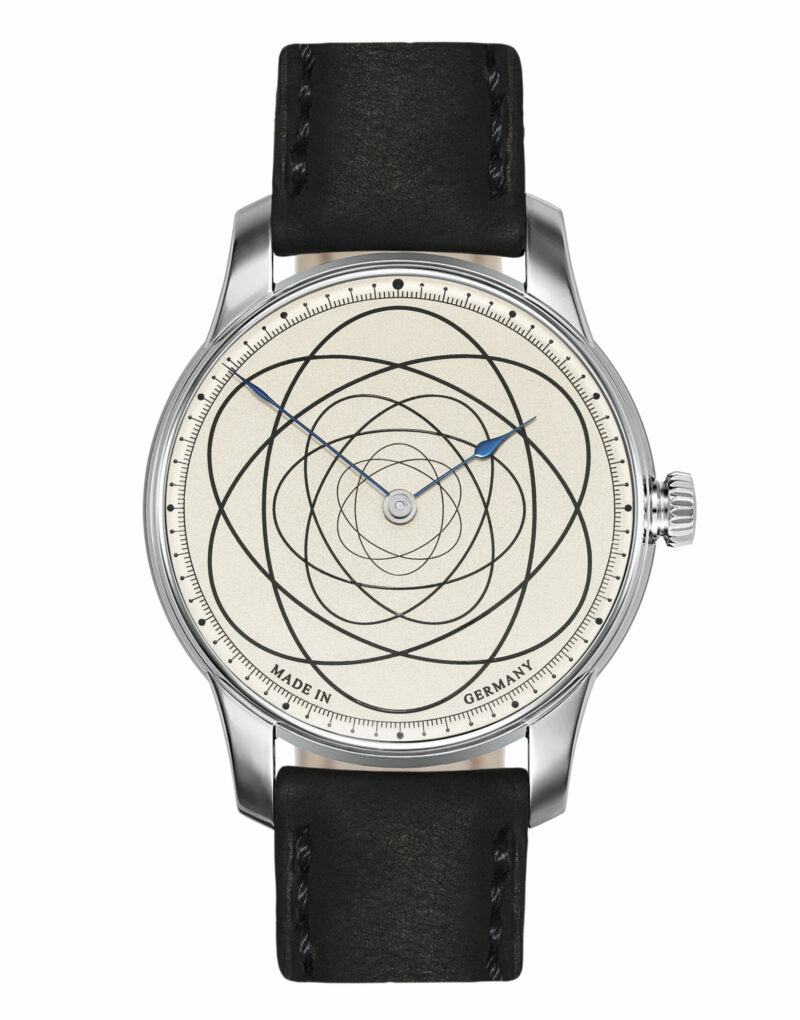 ATOM MOORE 37 silver-plated by friction
The following video presents the ATOM MOORE 37 silver-plated by friction watch in detail:
How the watch was created
The story of the ATOM MOORE 37 silver-plated by friction watch edition began more than three years ago: in 2019, artist Atom Moore visited the Moritz Grossmann manufactory in Glashütte and was fascinated by the skill of its watchmakers and artisans. This led to the idea of creating his very own watch.
The internationally renowned photographer Atom Moore is known for his photos of watches and images that reveal their own unique microcosm. This also explains his artist name 'Atom', which he used to sign his works right at the start of his career and later retained, as it defines his artistic personality. His trademark became the atom symbol with superimposed ellipses that represent electrons orbiting the atomic nucleus, similar to how planets orbit the sun. For Atom Moore, this symbol is also a sign of strength and calmness, features that he now places at the heart of the Moritz Grossmann watch he designed.
Atom Moore – Artist and photographer
Modernity and historical craftsmanship
The modernity of the dial design contrasts with the way it has been crafted: the lines filled in with black lacquer are spread across a background that is painstakingly created by hand. This finish, called grain or silver plating by friction, is a historical technique originating from the 19th century and has been revived by Moritz Grossmann. It gives rise to a fine-grained, velvety surface that subtly reflects the light.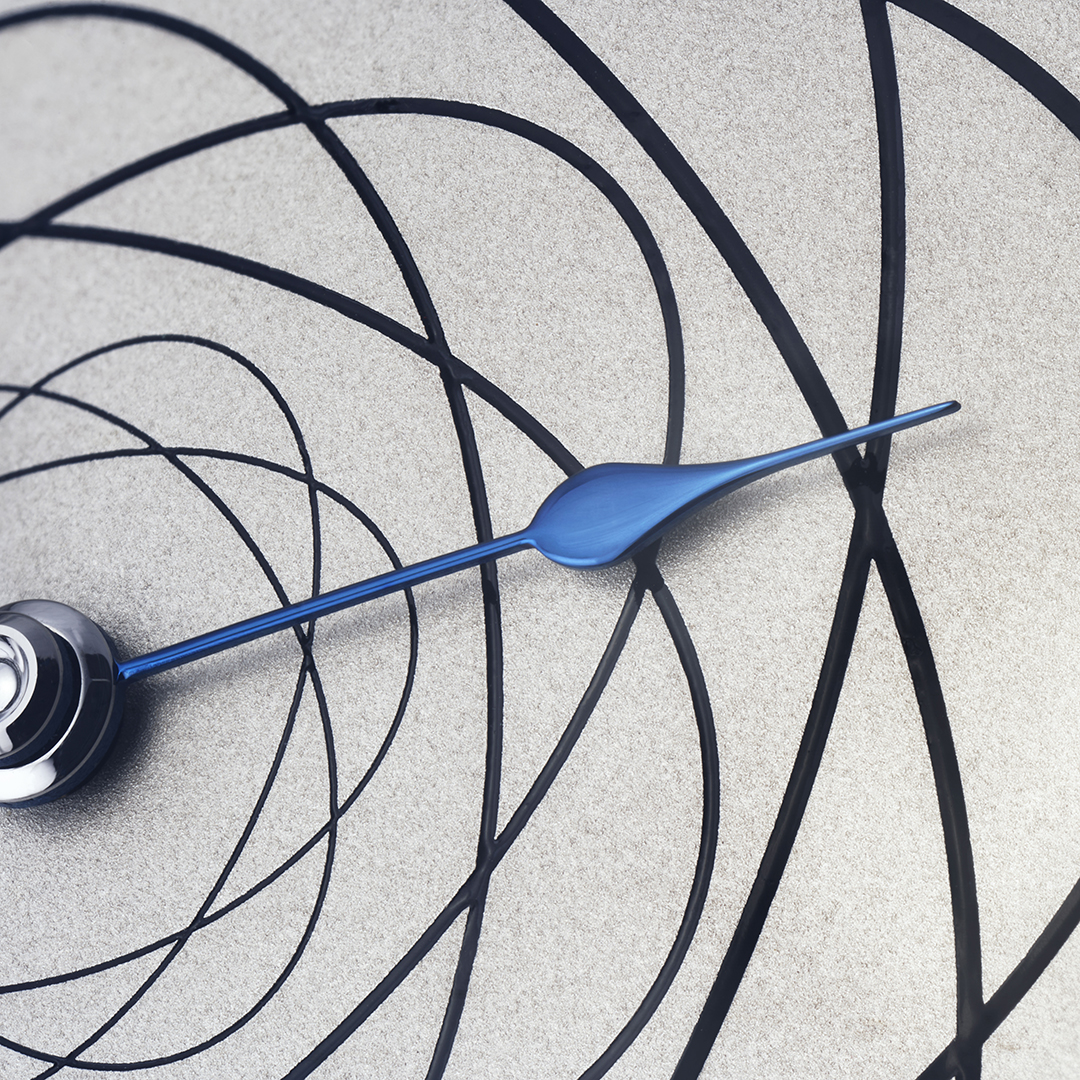 The effect is produced by hand using a brush to rub a special paste on until a fine-grained structure is created. The surface is then carefully sanded and a protective coating applied. Only a handful of specialists still master this traditional technique, which requires a high degree of concentration, a delicate touch and a great deal of experience. The process of creating the hands is no less elaborate; these are manufactured by hand at Moritz Grossmann and carefully blued.
The dial is housed in a captivating classic case measuring 37 mm in diameter, whose perfect proportions are executed in brushed stainless steel. It is worn on a black kudu leather strap and contains the flat, traditionally built manufactory calibre 102.1 with 3/5 plate that can be seen through the glass case back. This also reveals the High Artistic Finish of all the components with the finest cuts, polishes and engravings typical of Schönstes deutsches Handwerk.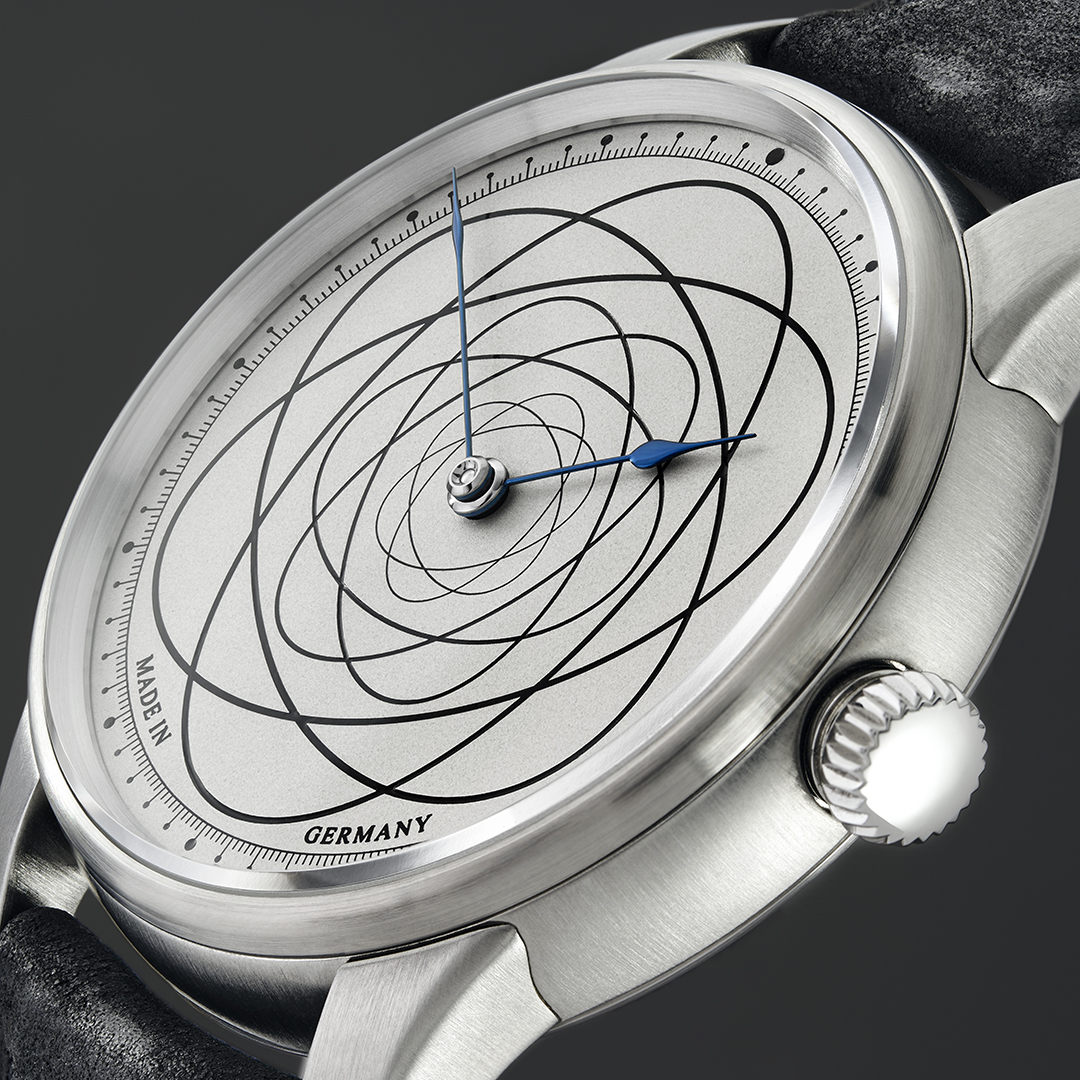 The ATOM MOORE 37 silver-plated by friction is available in a limited edition of seven; Atom Moore himself wears the 0/7 model.
The watch will be available exclusively at a net retail price of 26.900 EURO through Grossmann Uhren' concessionaire in New York, Cellini Jewelers, 430 Park Avenue at 56th Street, Fon: 800-CELLINI (800-212-0505).
Contact@Cellini.Jewellers.com