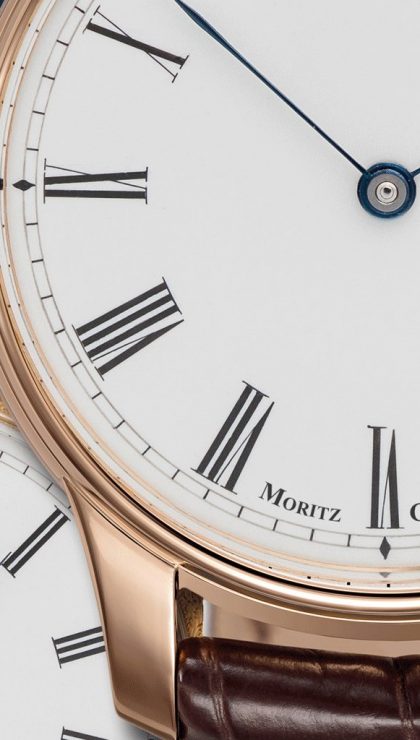 Versions
Rose gold
Reference MG-001855
Case 750/000 rose gold
Dial Argenté, Roman numerals
Hands Manually crafted, steel, annealed to a brown-violet hue
One-off pieces, ATUM 37 in 750/000 rose gold, Moritz Grossmann Pocket Watch in 18 carat gold.
The original Moritz Grossmann ladies' pocket watch with the movement number 6126, which was manufactured in around 1875 in Moritz Grossmann's workshop, is a unique piece and witness to the first heyday of the Glashütte watch industry.
Its dial is made of white enamel with black Roman numerals and blued pear hands. The movement is equipped with a Glashütte anchor escapement. The crown and ratchet wheel are decorated with a two-band snailing. Below the dial you will find the typical Grossmann time-setting lever. The case of this pocket watch is elaborately engraved and the back cover is additionally decorated with enamel inlays.
The ATUM 37 Hommage wristwatch is a unique specimen and the very image of the historical pocket watch. Its dial, also enamelled in white, bears the black Roman numerals of its predecessor. The hands, which are handmade in the manufactory, also correspond to the pocket watch from earlier times that they are based on.
The ATUM 37 Hommage is offered with the calibre 102.1 in the high artistic hand finish as a single edition 1 of 1.
The Original Moritz Grossmann Pocket Watch is offered as an original one-off piece.
The
calibre 102.1
Discover everything about the heart of the ATUM 37 Hommage.
Learn more
Tech Specs
ATUM 37 Hommage - Movement
Manufacture calibre 102.1, manually wound, adjusted in five positions

ATUM 37 Hommage - Special features
Shock-resistant balance with inertia and poising screws, impulse pin integrated in rim; flat balance spring; balance staff with integrated safety roller; index adjuster with Grossmann micrometer screw; pillar movement with 3/5 plate, frame pillars and separately removable clutch winder; frame parts in untreated German silver; raised gold chatons with pan-head screws; remodified Glashütte stopwork with backlash; mainspring barrel with bilateral jewel bearings for optimised power management in the low-torque range; ARCAP train wheels; proprietary escapement with 18-tooth escape wheel

ATUM 37 Hommage - Functions
Hours, minutes, and subsidiary seconds

ATUM 37 Hommage - No. of parts
188
ATUM 37 Hommage - No. of jewels
22, of which 3 in screwed gold chatons

ATUM 37 Hommage - Escapement
Lever escapement

ATUM 37 Hommage - Oscillator
Shock-resistant Grossmann balance with 4 inertia and 2 poising screws, Nivarox-1 balance spring

ATUM 37 Hommage - Balance
Diameter 10.0 mm, frequency 21,600 semi-oscillations/hour

ATUM 37 Hommage - Power reserve
48 hours when fully wound

ATUM 37 Hommage - Operating elements
Crown in 750/000 gold, with gemstone, for winding the watch and setting the time

ATUM 37 Hommage - Case dimensions
Diameter: 37.0 mm, height 9.2 mm

ATUM 37 Hommage - Movement dimensions
Diameter: 26.0 mm, height: 4 mm

ATUM 37 Hommage - Case
Three-part, in 750/000 gold

ATUM 37 Hommage - Dial
Solid silver, Roman numerals

ATUM 37 Hommage - Hands
Manually crafted, steel, annealed to a brown-violet hue

ATUM 37 Hommage - Crystal / display back
Sapphire crystal, antireflective coating on one side

ATUM 37 Hommage - Strap
Hand-stitched alligator leather with prong buckle in 750/000 rose gold

Ladies' pocket watch - Case
Case number: 6126
Ladies' pocket watch -Open case
18 kt. gold

Ladies' pocket watch - Back cover
Engraved with enamel inlays

Ladies' pocket watch - Manufactured
approx. 1875

Ladies' pocket watch - Movement
Movement number 6126 / Gold-plated movement / Oval Grossman hallmark on the plate underneath the balance / Gold lever, gold escape wheel, 15 teeth / Grossmann yoke winder
Ladies' pocket watch - Dial
Enamel dial with Roman numerals

Ladies' pocket watch - Hands
Blued pear hands