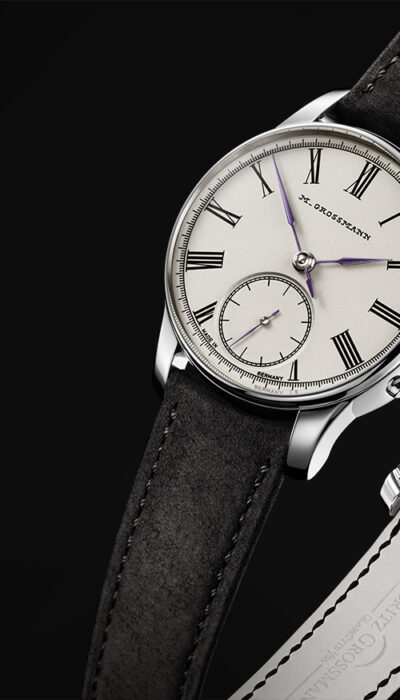 Versions
Novelty 2021
Stainless steel
Referenc:MG-003172
Case:Stainless steel
Dial:Silver-plated by friction with engraved black numerals
Hands:Manually crafted, steel, annealed to a brown-violet hue
Limited to 1 watch worldwide
The independent Glashütte manufactory Moritz Grossmann brings a piece of history to the ninth Only Watch benefit auction with a superbly crafted, unique timepiece. The auction takes place on 6 November 2021 in Geneva.
Moritz Grossmann is supporting the non-profit association for the third time and has again crafted a truly unique example of Glashütte watchmaking.
The dial adds to the undeniably elegant appeal of this unique piece of jewellery. It boasts a silver-plated by friction technique painstakingly finished by hand, a traditional art that ensures the time display can be read easily at all times and perfectly complements the distinctive appearance.
Another splendid statement comes in the form of a solid gold balance cock, elegantly catching the eye in the highly finished movement.
Tech Specs
Manufactory calibre 100.1, manual winding, regulated in five positions
Grossmann balance; hand setting override and start of movement with lateral pusher; space-saving modified Glashütte stopwork with backlash; adjustment with Grossmann micrometer screw on cantilevered balance cock in solid gold 750/000; movement with 2/3 plate and pillars made of untreated German silver; 2/3 plate, balance cock and escape-wheel cock hand-engraved; broad horizontal Glashütte ribbing; 3-band snailing on the ratchet wheel; raised gold chatons with pan-head screws; separately removable clutch winding mechanism; stop seconds for hand setting
Hours and minutes, subsidiary seconds with stop second, Grossmann manual winder with pusher
20 jewels, of which 3 in screwed gold chatons
Cantilevered balance cock in solid gold 750/000
Shock-resistant Grossmann balance with 4 inertia screws and 2 poising screws, Nivarox 1 balance spring with No. 80 Breguet terminal curve, Gustav Gerstenberger geometry
Diameter: 14.2 mm, frequency: 18,000 semi-oscillations/hour
42 hours when fully wound
Crowns in stainless steel to wind the watch and set the time, pusher in stainless steel to start the movement
Diameter: 41.0 mm, height: 11.35 mm
Diameter: 36.4 mm, height: 5.0 mm
Three-part, precious metal/stainless steel
Silver-plated by friction, engraved numerals, with black finish
Manually crafted, steel, annealed to a brown-violet hue
Sapphire crystal, antireflective coating on one side
Hand-stitched kudu leather with prong buckle in stainless steel