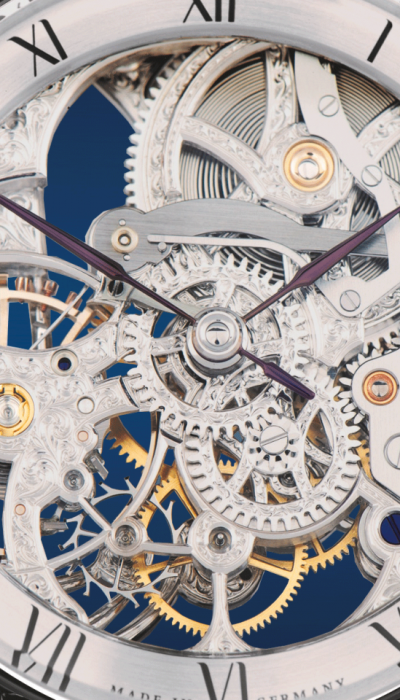 Versions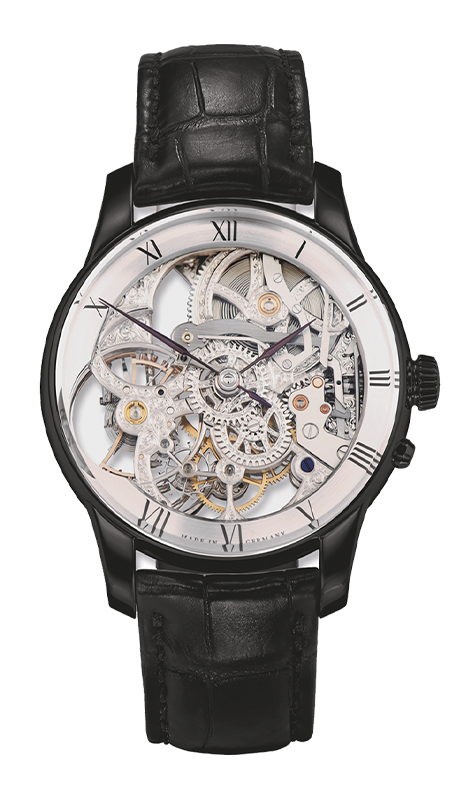 Stainless steel
Case:Three-part, stainless steel black
Hands:Hand-crafted, steel annealed to a brown violett hue
Moritz Grossmann, the independent Glashütte watchmaker, will celebrate its 10th anniversary next month. As part of the celebration, the company will present The ATUM 'Schaffo' skeleton, a one-off piece created in collaboration with iconic Swiss watchmaker and designer, Christophe Schaffo.
Moritz Grossmann formulated the ideal of "designing a simple but mechanically perfect watch" in the 19th century. With the ATUM 'Schaffo', the functionality and beauty of the mechanism are apparent at first sight. The dial consists of an elegant, narrow ribbon of rhodium-plated German silver featuring the minute markers, revealing the exquisitely finished movement, where each component has been chamfered, chased and engraved by hand.
Every movement of the dial train, balance wheel and other parts of the mechanism demonstrates the artistry and technique that went into making this timepiece. Blackened stainless steel is used for the case, winding crown and pusher which — along with the black alligator leather strap — form a stunning contrast to the dial. Schaffo's artistic creativity, technique and craftsmanship are outstanding and renowned around the world. He painstakingly stamped, cut and milled to minimise the material used for the calibre 100.5 in the ATUM 'Schaffo'. The result is a masterpiece of skeletonisation.
The Moritz Grossmann brand manufactures timepieces to the highest standard of craftsmanship under the tagline "Schönstes deutsches Handwerk". The ATUM 'Schaffo' brings together the craftsmanship of two masters — the Swiss artist Christophe Schaffo and the German watchmaking pioneer Moritz Grossmann. The one-off watch includes the name C. Schaffo on the ratched wheel and is a single edition 1 of 1.
Tech Specs
Movement
Manufacture calibre 100.5, manually wound, adjusted in five positions

Special features
Grossmann balance; lateral pusher for disabling the handsetting mode and starting the movement; space saving and modified Glashütte stopwork with backlash; adjustment with Grossmann micrometer screw on a cantilevered balance cock; Pillar movement with sceletonized plate and frame pillars in rhodium plated German silver; ratchet wheel with the name C. Schaffo on it; raised gold chatons with pan-head screws; separately removable clutch winder; stop seconds for handsetting

Functions
Hours and minutes, subsidiary seconds with stop seconds, Grossmann winder with pusher

No. of jewels
20 jewels, 3 of which in screwed gold chatons

Escapement
Lever escapement

Oscillator
Shock-resistant Grossmann balance with 4 inertia and 2 poising screws, Nivarox 1 balance spring

Balance
Diameter 14.2 mm, frequency 18,000 semi-oscillations per hour

Power reserve
42 hours when fully wound

Operating elements
Crown for winding the watch and setting the time, pusher to start movement

Case dimensions
Diameter: 41.0 mm, height: 11.35 mm

Movement dimensions
Diameter: 36.4 mm, height: 5.0 mm

Case
Three-part, stainless steel black

Hands
Hand-crafted, steel annealed to a brown violett hue

Crystal / display back
Sapphire crystal, antireflection-coated on one side

Strap
Hand-stitched alligator strap with prong buckle in stainless steel black