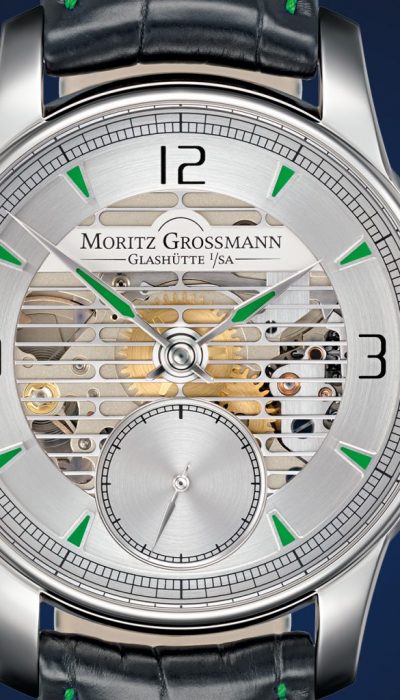 Versions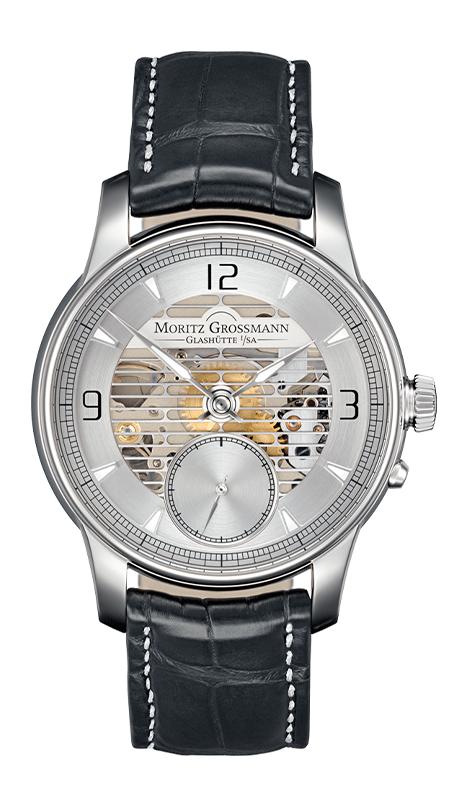 White
Reference:MG-001091
Case:Three-part, stainless steel
Dial:white, six-part, rhodiumed, stainless steel grid
Hands:Hand-crafted, hour and minute stainless steel, polished, with white HyCeram filling, subsidiary second stainless steel
Limited to 25 watches per marker colour version
Blue
Reference:MG-001088
Case:Three-part, stainless steel
Dial:blue, six-part, rhodiumed, stainless steel grid
Hands:Hand-crafted, hour and minute stainless steel, polished, with blue HyCeram filling, subsidiary second stainless steel
Limited to 25 watches per marker colour version
Orange
Reference:MG-001094
Case:Three-part, stainless steel
Dial:orange, six-part, rhodiumed, stainless steel grid
Hands:Hand-crafted, hour and minute stainless steel, polished, with orange HyCeram filling, subsidiary second stainless steel
Limited to 25 watches per marker colour version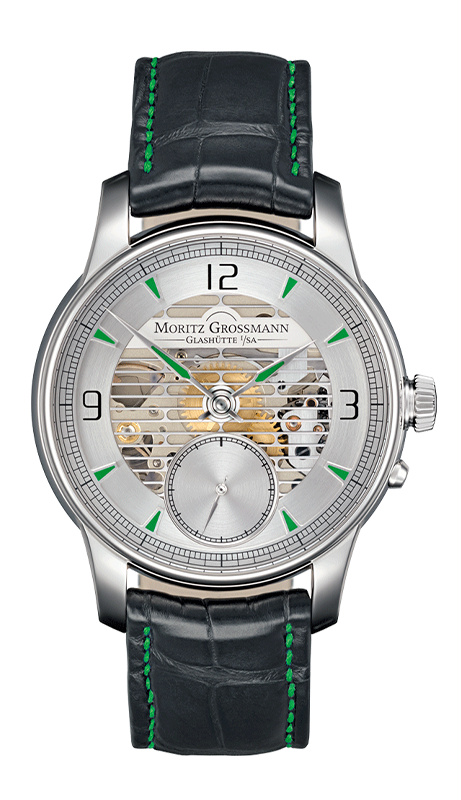 Green
Reference:MG-001097
Case:Three-part, stainless steel
Dial:green, six-part, rhodiumed, stainless steel grid
Hands:Hand-crafted, hour and minute stainless steel, polished, with green HyCeram filling, subsidiary second stainless steel
Limited to 25 watches per marker colour version
White DLC
Reference:MG-001116
Case:Three-part, stainless steel DLC dianoir
Dial:white, six-part, rhodiumed, stainless steel grid
Hands:Hand-crafted, hour and minute stainless steel, polished, with white HyCeram filling, subsidiary second stainless steel
Limited to 25 watches per marker colour version
Blue DLC
Reference:MG-001113
Case:Three-part, stainless steel DLC dianoir
Dial:blue, six-part, rhodiumed, stainless steel grid
Hands:Hand-crafted, hour and minute stainless steel, polished, with blue HyCeram filling, subsidiary second stainless steel
Limited to 25 watches per marker colour version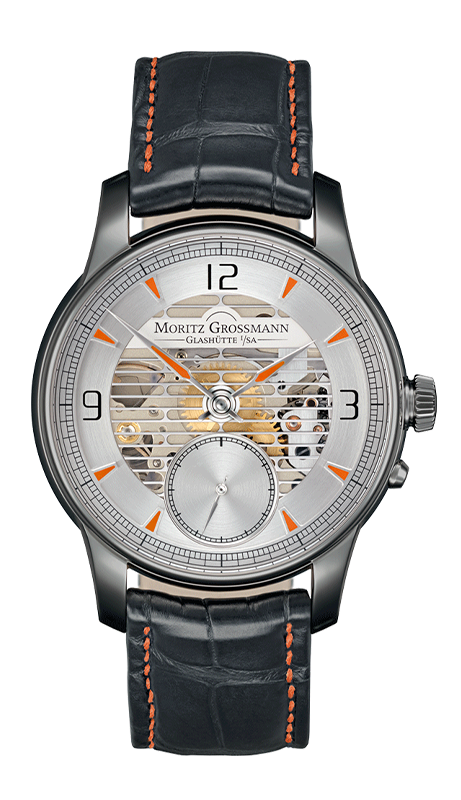 Orange DLC
Reference:MG-001119
Case:Three-part, stainless steel DLC dianoir
Dial:orange, six-part, rhodiumed, stainless steel grid
Hands:Hand-crafted, hour and minute stainless steel, polished, with orange HyCeram filling, subsidiary second stainless steel
Limited to 25 watches per marker colour version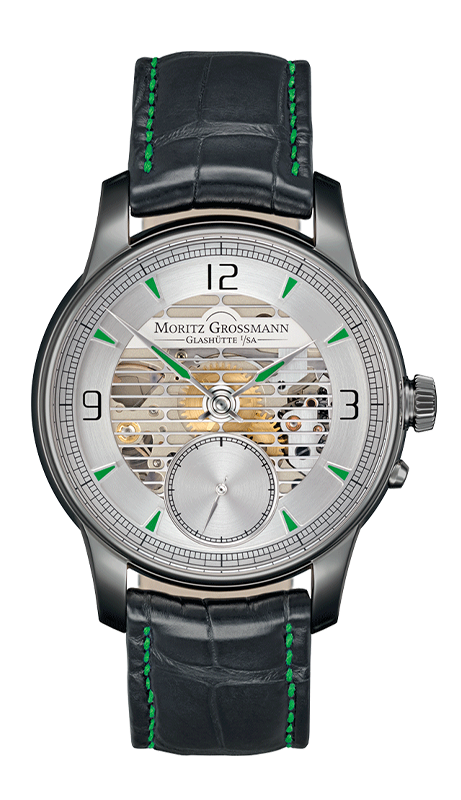 Green DLC
Reference:MG-001122
Case:Three-part, stainless steel DLC dianoir
Dial:green, six-part, rhodiumed, stainless steel grid
Hands:Hand-crafted, hour and minute stainless steel, polished, with green HyCeram filling, subsidiary second stainless steel
Limited to 50 watches per marker colour version
the winding crown and the pusher
The case
The unchanged case of the ATUM Pure M stands out with its slender bezel. The crown and pusher are telltale signs of the characteristic winding mechanism that also shines through the dial. A black alligator strap is combined with the polished stainless steel and stainless steel DLC dianoir cases. The contrast colour of the carefully stitched seam matches the respective colour of the HyCeram fillings in the dial.
the winding crown and the pusher
The gently curved form and the tapered chamfer of the strap lugs enhances the eloquent silhouette of the case.
Aesthetic and functional — the circumferential groove makes it easy to pull out the crown. The pusher for the new handsetting train is set directly below the winding crown.
The hands
Special hands are manually crafted in-house for the ATUM Pure M. Designed to match the markers, the lancet-style hands feature straight edges and broad chamfers that contribute to their slender yet corporeal looks. They are made of stainless steel that retains its remarkable toughness after tempering. To optimise legibility, pockets are worked into the hands and then filled with white "Hy- Ceram", a compound that consists of ceramic powder and resin. Then, the tips of the hands are precision ground. Finally, they are polished to a mirror gloss, including the white fillings.
The
calibre 201.1
Discover everything about the heart of the ATUM Pure L.
Learn more
Tech Specs
Movement
Manufacture calibre 201.1, manually wound, adjusted in five positions

Special features
Grossmann balance; handsetting override and start of movement with lateral pusher; space-saving modified Glashütte stopwork with backlash; adjustment with Grossmann micrometer screw on a cantilevered balance cock; pillar movement with 2/3 plate and frame pillars in untreated German silver; separately removable clutch winding mechanism; stop seconds for handsetting

Functions
Hours and minutes, subsidiary seconds with stop seconds, Grossmann winder with pusher

Escapement
Lever escapement

Oscillator
Shock-resistant Grossmann balance with 4 inertia and 2 poising screws, Nivarox 1 balance spring

Balance
Diameter 14.2 mm, frequency 18,000 semi-oscillations per hour

Power reserve
42 hours when fully wound

Operating elements
Crown for winding the watch and setting the time, pusher to start movement

Case dimensions
Diameter: 41.0 mm, height: 11.35 mm

Movement dimensions
Diameter: 36.4 mm, height: 5.0 mm

Case
Three-part, stainless steel

Dial
hour markers stainless steel, rhodiumed

Hands
Hand-crafted, hour and minute stainless steel, polished, with HyCeram filling, subsidiary second stainless steel

Crystal / display back
Sapphire crystal, antireflection-coated on one side

Strap
Hand-stitched alligator strap with prong buckle in stainless steel