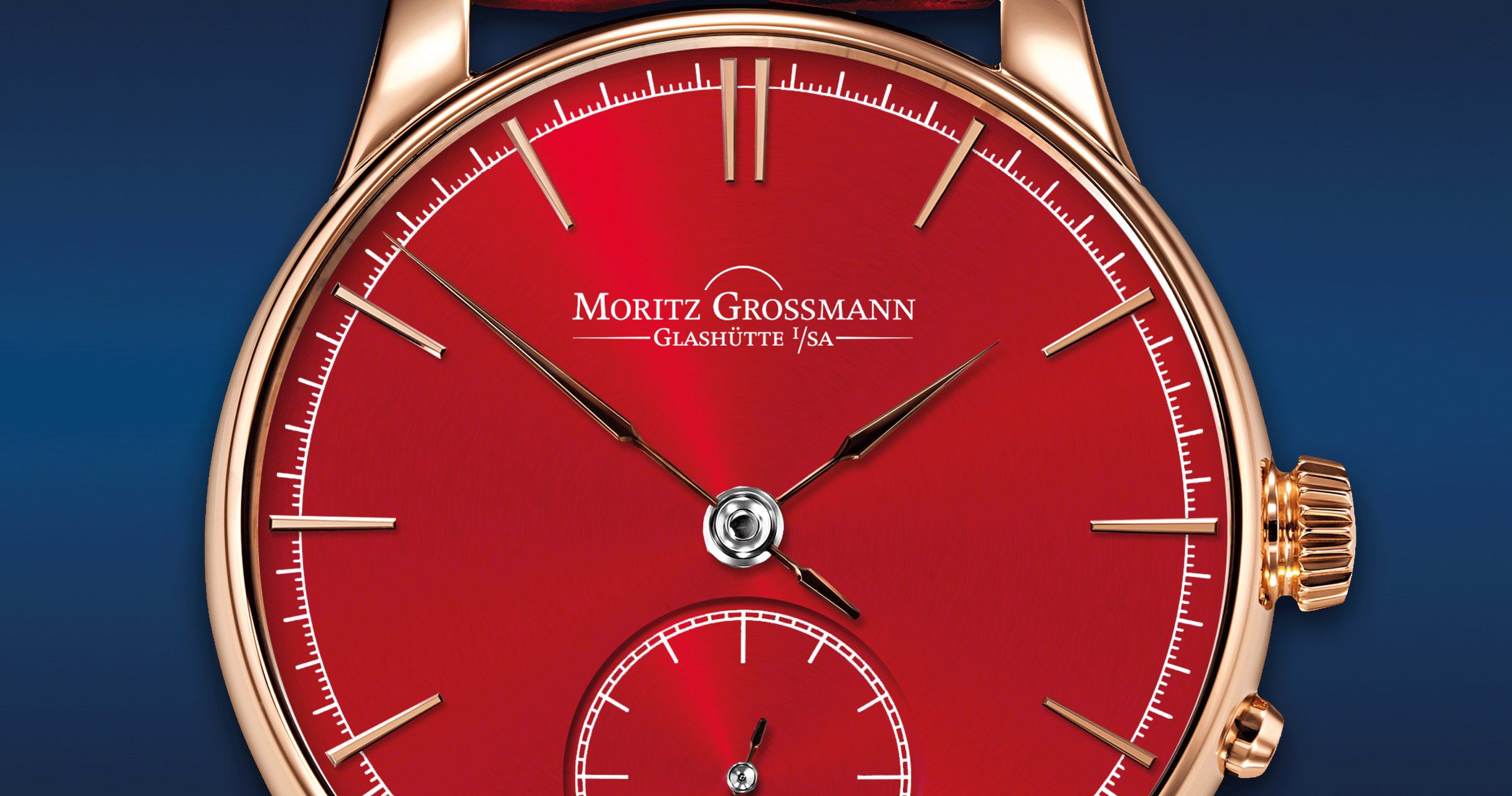 Versions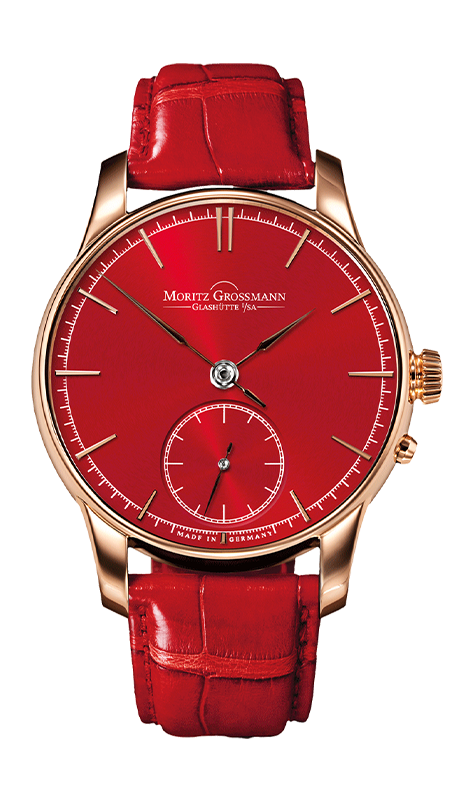 rose gold
Case:Three-part, precious metal
Dial:Solid silver, hour markers in solid gold
Hands:Manually crafted, steel or stainless steel, annealed in brown
Christmas elegance in gold and red
Just in time for Christmas, the independent Glashütte watch manufacturer Moritz Grossmann shows its most glamorous side. With the ATUM High Art Christmas, the manufactory dedicates its own masterpiece to the most beautiful time of the year, embodying the high art of watchmaking to perfection. Warm rose gold, 'Christmassy' red and a high-artistic finish lend the special model of the ATUM line its festive elegant charisma.
The noble one-off piece is not only a homage to Christmas, but also a timelessly stylish eye-catcher that makes every day something special. The colour red has symbolic power; it stands for love, passion, fire and radiates pure joie de vivre — just like the ATUM High Art Christmas.
The case in 750/000 rose gold gives the Christmas red dial its elegant setting. The indexes, also in rose gold, harmonise with it. The handcrafted lance-shaped hands are tempered by hand over an open flame in brown and are given their unique three-dimensional shape by manual chamfering.
The red bracelet reinforces the effective colour concept. The Grossmann manual winding mechanism with pusher ensures comfortable handling and enables a perfected pointer setting mechanism.
The calibre 100.1 in the high-artistic finish makes the watch a real gem, because all parts are polished, chamfered and ground by hand in elaborate detail work. The sapphire crystal back on the back of the watch reveals the fine mechanical components of the ATUM High Art Christmas — a sparkling ensemble, not only during the Christmas season.
With the ATUM High Art Christmas, Moritz Grossmann once again demonstrates an extraordinary flair and craftsmanship for timepieces that represent "Schönstes deutsches Handwerk" — meaning the most beautiful German craftsmanship — in an incomparable way.
The ATUM High Art Christmas comes with the calibre 100.1 in a High Artistic finish in the single copy 1 of 1.
Tech Specs
Movement
Manufacture calibre 100.1, manually wound, adjusted in five positions

Special features
Grossmann balance; hand setting override and start of movement with lateral pusher; space-saving modified Glashütte stopwork with backlash; adjustment with Grossmann micrometer screw on a cantilevered balance cock; Pillar movement with 2/3 plate and frame pillars in untreated German silver; 2/3 plate, balance cock, and escape-wheel cock engraved by hand; broad horizontal Glashütte ribbing; 3-band snailing on the ratchet wheel; raised gold chatons with pan-head screws; separately removable clutch winder; stop seconds for hand setting

Functions
Hours and minutes, subsidiary seconds with stop seconds, Grossmann winder with pusher

No. of jewels
20 jewels, 3 of which in screwed gold chatons

Escapement
Lever escapement

Oscillator
Shock-absorbed Grossmann balance with 4 inertia and 2 poising screws, Nivarox 1 balance spring with No. 80 Breguet terminal curve, Gustav Gerstenberger geometry

Balance
Diameter: 14.2 mm, frequency: 18,000 semi-oscillations per hour

Power reserve
42 hours when fully wound

Operating elements
Crown in 750/000 gold to wind the watch and set the time, pusher in 750/000 gold to start the movement

Case dimensions
Diameter: 41.0 mm, height: 11.35 mm

Movement dimensions
Diameter: 36.4 mm, height: 5.0 mm

Case
Three-part, precious metal

Dial
Solid silver, hour markers in solid gold

Hands
Manually crafted, steel or stainless steel, annealed in brown

Crystal/display back
Sapphire crystal, antireflection-coated on one side

Strap
Hand-stitched alligator strap with prong buckle in precious metal