Versions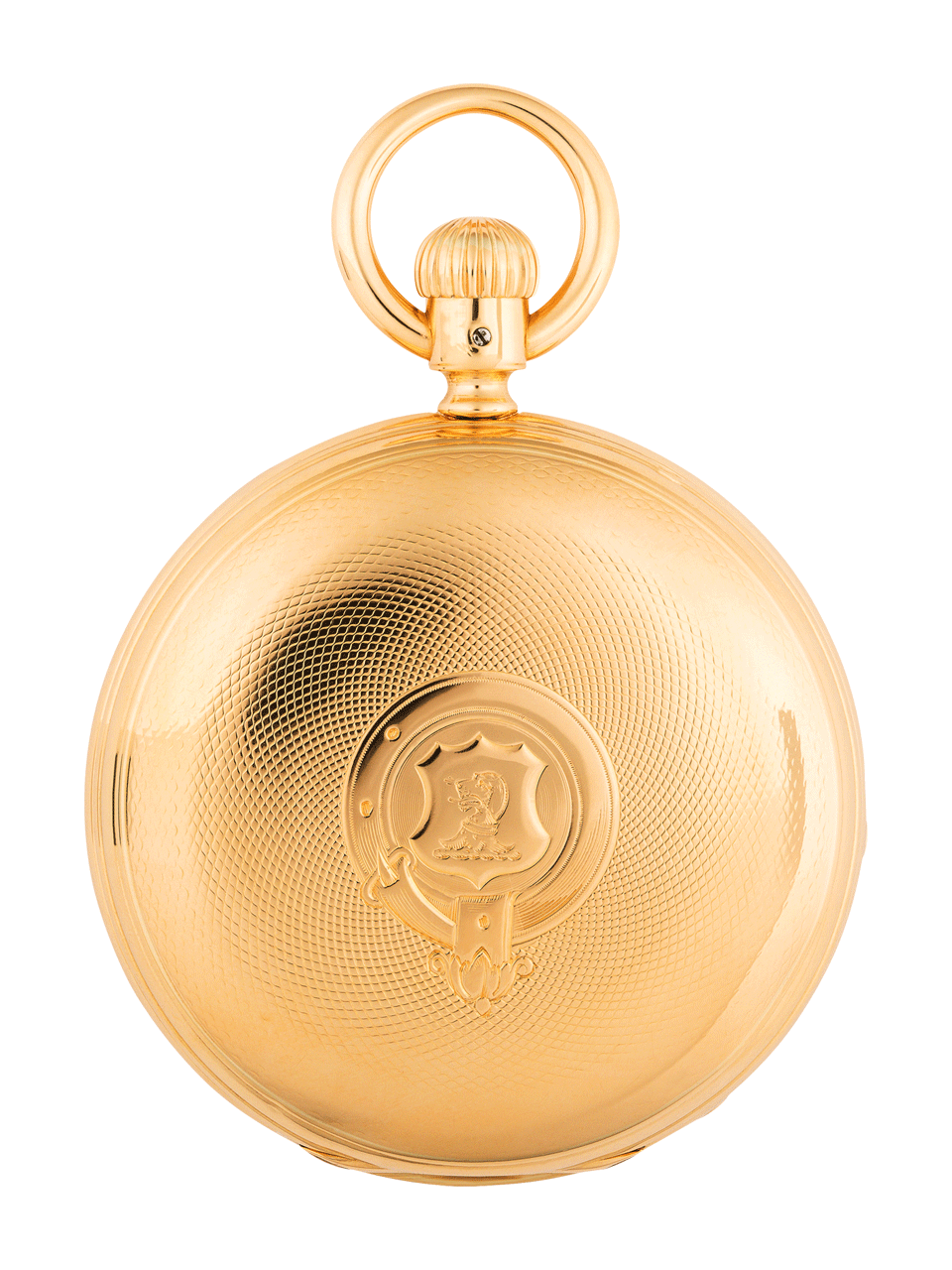 Pocket Watch
Moritz Grossmann, men's pocket watch
The original Grossmann men's pocket watch from the 19th century is encased in a gold savonette case. Its white enamel dial is decorated with black Roman numerals and blued pear-shaped hands. The lettering M. Grossmann i Dresden No. 2966 is hand engraved on the gold-plated movement on the back of the watch.
On the outer side of the spring cover is an engraved coat of arms and in the dust cover, the engraving with manufacturer's signature can be admired:
M. Grossmann, Glashutte in Sachsen with the additions anchor escapement, chronometer balance, 19 rubies and diamond and patent index.
The inside of the spring cover is decorated with a monogram of the owner at that time. His dedication to Henry P. Egleston January 1st 1872 is applied to the inside of the back cover. It is a gilded, fully chatonised brass movement with 16-toothed pointed tooth escapement in gold. Under the balance cock with diamond endstone there is an oversized chronometer balance. On the ratchet wheel you can admire the three-band snailing finish typical of Grossmann.
Tech Specs
Dial
Enamel dial with Roman numerals

Movement
Movement no.: 2966 / Gold-plated brass movement engraved M. Grossmann i Dresden No. 2966 / Gold lever, gold escape wheel, 16 teeth, pointed tooth escapement / Chronometer balance / Crown wheel and ratchet wheel made of sterro metal with three-band snailing / Fine regulation with screw /Diamond endstone
Case
Savonette case gold / Engraved coat of arms on the outside of the spring cover / Monogram on inside of spring cover / Dedication on inside of back cover: "Henry P. Egleston January 1st 1872"

Engraving on dust cover with manufacturer's signature: M.Grossmann Glashütte in Sachsen / Anchor escapement / Chronometer balance / 19 rubies and diamond / Patent Index